---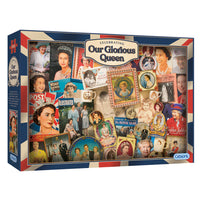 Once again our nation celebrates, this time for the Queen's Platinum Jubilee. 
This popular jigsaw - full of royal smiles - has been reissued to rejoice at her extraordinary seventy year reign.   As the longest serving British head of state and the world's oldest reigning monarch, our amazing Queen is possibly the most photographs person in history. In this jigsaw we see her many expressions - regal, joyful, intrigued, thoughtful, happy... and glorious. 
This 1000 piece puzzle has been created by the talented Robert Opie and was originally released in 2016, to celebrate Her Royal Highnesses 90th birthday.