---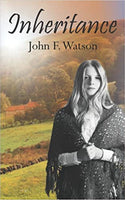 The year is 1911 and Ruth Brennan, reunited with Jim from their orphanage days together, now looks to the future with a new found confidence. But first, she must banish the haunting memories from her early childhood if she is to find true happiness.
As Ruth battles with her own demons, Joshua Thrall learns that he must leave Freda, his first true love and as the horror of the 1st World War begins, Josh, along with close friends Barney and Pete, they decide to leave the hardship and poverty of the countryside to fight for King and Country.
A hard, emotional story of love, romance, family conflicts and bravery set around this close-knit rural community with the rugged, stunning scenery of the North York moors as its backdrop.
`Inheritance` is a sequel to `A Journey of Hope.`