---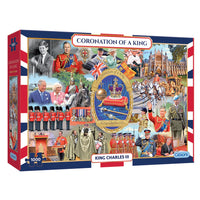 The coronation of King Charles III, on Saturday 6th May 2023, marks the start of a new era for the United Kingdom and the Commonwealth. During the ceremony, the King is anointed with holy oil, blessed and consecrated by the Archbishop of Canterbury, and receives the orb, coronation ring and sceptre.
This special collector's edition 1000 piece montage puzzle portrays the tradition and grandeur of the coronation ceremony, including the 14th-century King Edward's Chair and King Edward's Crown, and celebrates the beginning of His Majesty King Charles III's reign.
This 1000 piece puzzle has been created by the talented Victor McLindon. Made in Great Britain.